Shades of Yesteryear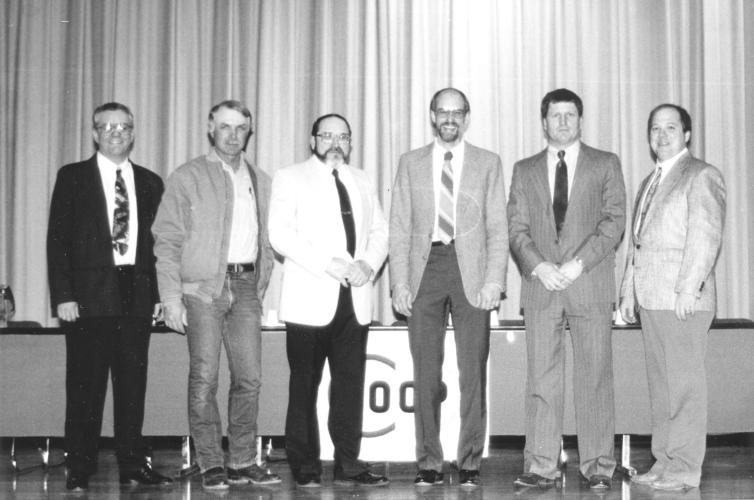 TEN YEARS AGO—
March 20, 2013
Kirby, Trina and Gavin Kleymann have added a new product line to the Diamond K businesses – an extensive line of animal feed and supplies.
Terry Woodbury to speak at Greeley County Community Development annual meeting, action team update.
Marion "Mic" Harper, Tribune, Kansas will be identified as the Carp Award recipient by the Kansas Interscholastic Athletic Administrators Association (KIAAA), on March 16, 2013. This award is provided annually by the KIAAA to a citizen that has demonstrated a lengthy dedication to interscholastic athletics in the state of Kansas.
Justin Doty wins King of the Hill! "King/Queen of the Hill" Handicap Bowling Tournament was held on Sunday, March 17th at the Tribune Bowl with 15 entries.
Local artists are invited again this year to bring their work into the library to help celebrate "Art in April." The library will host a Meet and Greet the Artists evening on April 24, with local student entertainment and refreshments.
++++
TWENTY YEARS AGO—
March 19, 2003
After being eliminated in the first round of the state tournament for the past two years, the Tribune Lady Rabbits advanced further than any previous Tribune girls basketball team by beating Waconda East 52-42 in a first round game at the 1A State Tournament at Hays. In their second round game, the Lady Rabbits lost to the undefeated Ness City Eagles 39-45. In the consolation game with Norwich, the Lady Rabbits trailed through three quarters of play but came back to take the lead 55-54 in the fourth period. Norwich won the game on a last second shot to win 62-61 giving the Lady Rabbits fourth place in the 1A State Tournament.
Seniors on the Principal's Honor Roll with a 4.0 grade point average for the third nine weeks of the 2002-03 school year were Kristen Crittenden, Jentri Dixon, Jesse Edmonds, Joshua Gooch, Jason Keeney, Kara Sloan, and Kara Wendt.
The eighth grade class of the Greeley County Junior High presented Don Quixote and the Black Knight on Monday, March 10, at the high school auditorium. The play, under the direction of Mrs. Carol Miles, English teacher, featured Zachary Kail as Don Quixote, Brandon Peter as Pancho, Corbin Myers as Cisco, Lindsay Wineinger as the Princess, Andrew Mishler as the Black Knight, and Derrick Sloan as the narrator.
++++
THIRTY YEARS AGO—
March 17, 1993
A fairly large number attended the 44th annual shareholders meeting of Farmco, Inc., held Tuesday evening, March 16, at the Greeley County High School auditorium. Richard Kysar was elected president of the cooperative, replacing Ronald Waldren, who was not eligible, having served three terms on the board of directors.
Funeral services for Mrs. Irene Donovan were held Monday afternoon, March 15, in the First Baptist church in Tribune, Rev. Mark Randolph, pastor officiating.
Five Greeley County 4-H members participated in the Kansas Beef Expo Youth show Saturday, March 13, at the Kansas Coliseum in Wichita. They were Amber Govert, Angela Smith, Lynn Foos, Clinton Harris, and Cody Woelk.
Dwayne Gooch is home this week for a visit. It's spring break at Tulsa University Law School at Tulsa, OK, where he is a senior at the law school.
++++
FORTY YEARS AGO—
March 17, 1983
After nine rounds of words, Gina Underwood, daughter of the Rev. and Mrs. Mike Underwood, won the Greeley County competition by spelling the word satchel.
The EHU Cultural Arts committee is sponsoring the "Carnival of Crafts," on Thursday, at the 4-H building.
Saturday, three antennas, one receiving and two sending, were installed on top of the head house on the Farmco, Inc. grain elevator. Now folks in Tribune and nearby can listen to KANZ-FM.
Marguerite (Maggie) Hunt celebrated her birthday Saturday afternoon at an open house in the fellowship hall of the Presbyterian Church.
The Greeley County junior-senior high school band is anticipating an exciting 1983 Liberty League band clinic at Wallace County on Tuesday.
Margaret Taylor and Wilda Werner will give a slide presentation of the "High Plains Ecology," at the March meeting of the Greeley County Historical Society.
Angela Firner, daughter of Mr. and Mrs. William Firner, Tribune, is a candidate in the 17th annual Garden City pageant.
++++
FIFTY YEARS AGO—
March 15, 1973
Debbie Wishon was chosen delegate, and Dawn Ekhoff alternative to the 31st annual Sunflower Girls State.
The Greeley County hospital said they appreciated the gift of $125.00 from the Girl Scouts.
About 400 persons attended the open house celebration at Myers Implement, Inc. Mrs. Paul Myers said they served 50 frozen doughnuts and a lot of coffee.
The new courthouse plans were explained in this issue of the Greeley County Republican.
C.C. Tarman's 80th birthday, and his wife Maggie's 85th birthday, were celebrated at a dinner in the home of Mr. and Mrs. Rusty Tarman.
The 33rd wedding anniversary of Mr. and Mrs. Victor Rauch was celebrated in the Robin Frakes home in Lakin.
++++
EIGHTY YEARS AGO—
March 18, 1943
Three carloads of cement supply and stock tanks are being erected here by a crew of nine men working for the McPherson Cement Products Co.
Clettis Doughty and family of Dodge City, moved on the Burr ranch this week. Charles Setters and family have gone to Wallace County.
Mr. and Mrs. Howard Roland have purchased a farm in Wichita County, seven miles south of Selkirk and plan to move about May 1.
Hilma Liljegren returned Saturday from a visit at Gowrie and Des Moines, IA.
Floyd L. Carter plans to leave Friday night for Chicago for a meeting of the North Central Accrediting association for high schools and colleges.
Bruce Stinson found Friday that one of their chickens had laid an egg shaped like a squash. It was several inches long. He said it was the first time he had ever seen an egg like that.
Miss Hope Owen and Mrs. Robt. Sleigh left Tuesday night for San Francisco, CA, where Sunday Miss Owen will participate in the launching of the U.S.S. Owen, a destroyer which has been constructed by the Bethlehem Steel Co. of San Francisco.
Mrs. Floyd resigned as the fourth grade school teacher in Tribune elementary school, and Mrs. Mable Tucker is taking her place.
The first grade in Tribune grade school has made a giraffe 27 inches tall for their miniature circus.
The Horace grade school children are writing letters to our soldier brothers and friends.
Orin Gentry bought a new Ford pickup Saturday at Garden City. Luther Trued purchased a new Ford passenger car there this past week.
Clair Kauffman and son, Jim, arrived here Saturday evening from Pennsylvania. They are going to farm here.
++++
NINETY YEARS AGO—
March 16, 1933
The First National Bank of Tribune received authority to open Wednesday morning and business started as usual. Cashier Robert Sleigh informs us that instructions are to guard only against any withdrawals for hoarding purposes.
W.M. Mallory has a large herd of horses that are now in demand.
Fire damages Sigler grocery. Marshall Ed Woods discovered fire in the evening about 9 o'clock, and immediately notified the fire ladies. Some sort of fire sale disposal probably will be made.
Mrs. Herman Trued is happy as a lark, but no wonder, she has a big batch of chicks to contend with.
"Dream Boat" was to be given by the grade school of Tribune on Friday, March 31, in the high school auditorium-admission 10 cents and 20 cents.
++++
110 YEARS AGO—
March 14, 1913
Quite a number from Sidney attended the spelling contest at Tribune, Sunday.
Mrs. F. Sherer has a well put down in her garden and will raise some fine garden truck this season.
The application of W.H. Skinner for the principalship of the Greeley County High School was accepted by the county commissioners for the next school year.
Mr. Cassell showed 16 varieties of spring wheat this week at the experiment farm.
An auto was received here for Clem L. Wilson. He is going to rustle the land business this summer.
Well casing is in good demand, which indicates that new wells are being put down.
++++