Art in April showcases local creations at the Greeley County Library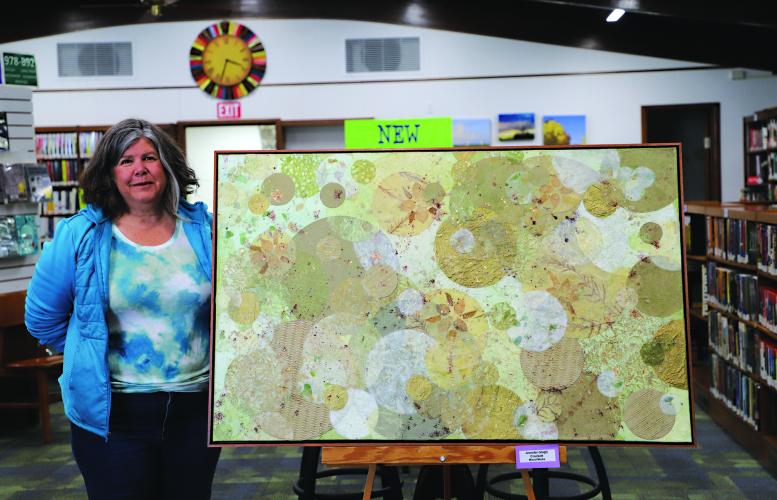 Editor's Note: There are just a few days left to see this year's Art in April exhibit. We'll try to remind you about the event earlier next year.

Each April, the Greeley County Library invites local artists to display their artwork in the library all month long. This year, nine community members brought in their work for the community to enjoy.
Jennifer Vogt-Crockett, a Greeley County alum who moved back to the area last August, has three mixed media canvases on display.
The canvases, which are pieces she created for Gail Miller, are predominantly greens and browns, featuring layered paper, and in one case, cottonwood seeds.
"When my kids were taking drivers' education in Sharon Springs, I would go paint in the park. There are cottonwood seeds in the painting where they blew onto the canvas," said Vogt- Crockett.
Inspired by the free-flowing liquid acrylic creations of Dale Chihuly, who is also widely revered for his blown glass sculptures, Jennifer describes her mixed media pieces as "garage art."
"I always paint in the garage, where I can make a big mess," she said. One day, she hopes to convert part of the upstairs of her Tribune home into a studio.
She's sold somewhere between 20 and 30 art pieces and is looking forward to creating more, including commissioned pieces. Vogt-Crockett has a degree in commercial art from a school in Louisiana and recalls the days when she and her friends used to gather in her Colorado Springs garage to paint fondly.
"Anyone can be an artist," Vogt-Crockett says. "What's fun about abstract art is that you can do whatever you want."
She describes art as therapeutic and credits much of her love of art to her aunt Martha Russell, who taught art at Greeley County Schools for many years.
Additional pieces currently on display at the Greeley County Library include:
A quilt by Vivian Day;
Julia Hopkins' Desert Sunset painting;
Linda Hunter's Lord Have Mercy and Sandhill Sonata paintings;
Elby Ellis's hand-sewn cloth Crucifixion;
A flower painting by Heather Long;
Two fused glass pieces, three needle felting pieces, and a rope clay pot by Coriander Myers;
A snowman painting by Keli Myers;
And a woven basket by James Marquardt.