GCCD's Coffee and Chat highlights Department of Agriculture's From the Land of Kansas program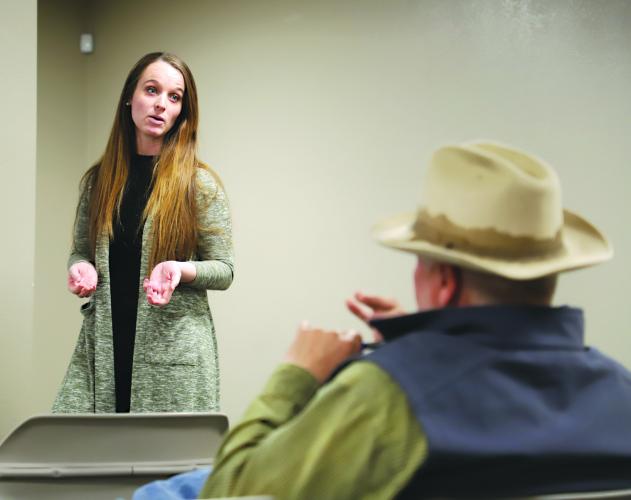 Greeley County Community Development hosted its second Coffee and Chat last Wednesday, March 15. They welcomed Russell Plaschka and Sammy Gleason from the Kansas Department of Agriculture.
Sammy Gleason, program manager for the From the Land of Kansas program, visited with those present about the various services the program offers for Kansas growers.
"Our goal is to help businesses that grow, raise, and produce products in Kansas," Gleason said.
Gleason highlighted a map of the state that showed that many of the Kansas producers working with the From the Land of Kansas program are in the eastern part of the state. Kansas Department of Agriculture staff would like to see more companies involved from western Kansas, too.
"Consumers are 81% more likely to purchase products branded with the From the Land of Kansas label," Gleason said.
Involvement in the program allows access to an online marketplace that helps other retailers and direct customers find and source Kansas products. Those involved with the program also have reduced-price access to testing and product development services at K-State's Value-Added Food Lab and Meat Science Lab.
Those interested in learning more should visit FromtheLandofKansas.com/benefits.
Gleason and Plashka also visited about limited available grant programs, some of which focus on the expansion of specialty crops and education surrounding their viability and usefulness. Incubator/community kitchens were also discussed.
Those present asked questions about the current status of sales tax on food, farmer's market resources, and working community/incubator kitchen models. Immigration, as it relates to workforce visas, was also briefly discussed.
Plashka, Agriculture Marketing Director, also spoke about the division's various areas of focus, which include: retaining, serving, and growing current farms, ranches, and agribusinesses in Kansas, expanding the Kansas agriculture industry, assisting in maintaining and growing rural Kansas communities, raising awareness of agriculture, and creating appreciation for agriculture in the state.
For more information, visit the Kansas Department of Agriculture's website at www.agriculture.ks.gov or contact Russell Plaschka or Sammy Gleason directly at (785) 564-6700.