Golf team takes fourth at regional meet, second at league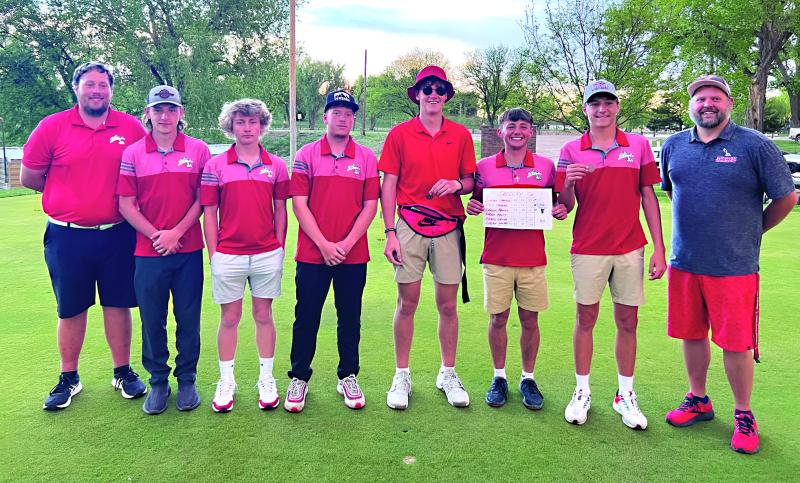 The Greeley County High School Golf team hosted one of the four regional tournaments on Monday, May 15. It was a cold and windy day, but all of the teams still posted some of their best scores of the season.
We had a stacked regional, featuring five of the top 10 teams in the state, with room for only three teams to qualify. Logan Harris was first to tee off for the Jackrabbits. Logan had a very rocky start in his first ever postseason experience, but once he settled in, he played more like his normal self. Logan shot a 62-53-115. Jaxson Brandl was next to tee off, shooting a 57-52-109. Jaxson has had the same struggles all year. He has a few holes sprinkled into his round where he can't get anything to go right and makes a big number. He will play 12 holes with the best of them, but those other six can really blow up his scorecard. Brodey Grubb was the next to tee off in his postseason debut. Brodey struggled a little with ball striking throughout the day, which is unusual for him. However, he did putt the best he has putted all season long. Brodey shot a 52-51-103, which would be one of our 4 scores to count for the team score. Kasen Felty followed Brodey's group. Kasen learned a lot from last year's postseason experience and played a great round. Kasen shot a 45-45-90 and earned himself the tenth place medal for the regional tournament. This was an outstanding accomplishment for Kasen in such a tough regional. Kasen had three pars, three double bogeys, and 12 bogeys. At our level, playing bogey golf will usually have you in pretty good position and Kasen can consistently be there with how well he hits his irons and how well he putts. He led the team in putting this year and it goes to show how much it can help your score. Titus Sherer was up next for the Jackrabbits. Titus started off well on each of his nines but struggled on the last 4 holes on each side. Those are our toughest holes, and they ate Titus up. He ended up with a 52-50-102, which was one of our 4 team scores for the day. Lincoln Shafer led the team in scoring average this year and had the honor of teeing off last for the team. Lincoln had a rocky start to the day and just couldn't get anything going, including an untimely OB on hole six. It seemed like that OB on six kick-started him though. He responded so well, and he shined from that point on. Lincoln shot a 47-40-87 to place seventh overall. Lincoln plays sort of the opposite of Kasen, but they arrive at the same destination. Lincoln plays more aggressively and strings together more pars with chances at birdies, but he occasionally makes the big number as well. Once Lincoln can learn to stay away from those big numbers, he will really take off.
The team score added up to a 382, which was fourth place for the tournament. We finished 13 strokes behind Ingalls for third place and a trip to the state tournament. South Gray continued their undefeated season, shooting a 337. One of their players won the individual championship with a 1-under round of 71. Ashland was second with a 348 and qualified for the state tournament as well. Hodgeman County was behind us in fifth with a 390 team score. It's tough when you get done and check the regional for northwest Kansas and see that the winning score there was a 410 and a team made it to state by shooting a 429. But, sometimes that is just the way the lines fall and I'm proud of how our team played. We beat our season average by 12 strokes. We were ranked ninth in the state and got beat by the number one, number three, and number seven teams. It just didn't quite go our way.
Even though we didn't qualify as a team, Lincoln and Kasen's play earned them both the chance to go to the state tournament at Emporia on May 22 & 23. I'm excited to see how Lincoln and Kasen compete at the state tournament now that they have been there once before. State is a whole different animal when it comes to golf. There are tons of people there watching and the course is usually longer and tougher than what we normally play. The shock factor should be gone, and I look for them to play well.
It was fun to have so much of the community checking in on scores throughout the day. I've never gotten done with a tournament and had so many texts from community members asking how we finished up. I appreciated all the kind words and encouragement. We are very blessed to have so many Jackrabbit supporters!
Thank you to all the parents, family, and friends for all your support throughout the year and at the regional tournament. I also want to give a huge thank you to all the volunteers that helped get the course in great shape, provided meals and drinks, helped with marking and administering the tournament, donating carts as rental carts, and anybody else in any other category. It took way more volunteers than I could possibly name, and I appreciate all of you. I got an abundance of compliments from other coaches about what a great host we were, and it wouldn't have been possible without all your help.
Once again, Greeley County shows what it can accomplish through the dedication of its community members. Thank you all!
The Greeley County High School Golf team also traveled to Atwood on Tuesday, May 16 for the re-scheduled NWKL tournament. All of the scores at the tournament were higher than normal. I think all the kids were a little worn out from regionals the day before. Lincoln Shafer led the Jackrabbits with a 49-44-93 and finished sixth overall to earn himself First Team All-League honors for the second consecutive year. Jaxson Brandl was next for the Jackrabbits, shooting a 53-48-101 and placing tenth overall. This earned Jaxson Second Team All-League honors in his last tournament of his high school career. Titus Sherer was right behind with a 50-52-102, followed by Logan Harris at 57-47-104. Titus and Logan both earned All-League Honorable Mention. Brodey Grubb just missed out on All-League honors, shooting a 51-57-108. Kasen Felty also made the trip, but withdrew after the front nine with a back injury. The Jackrabbits finished with a team score of 400 to place second for the second consecutive year.