JV Golf Team making strides as two tournaments remain on the season; Varsity has busy week ahead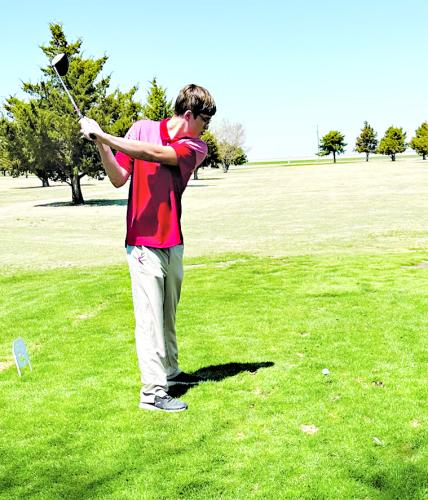 The Greeley County golf team played two JV tournaments this week. The varsity had one tournament scheduled for Hoxie but was cancelled due to weather. The JV played in a 2-person scramble at Grinnell on Thursday, April 27th. This was the first time we have sent our kids to something like this and I think they really enjoyed it. They got to play in a little more relaxed setting and just enjoy the sport without the pressure to perform. Logan Harris & Aaron Vestal had the best 9-hole score with a 42, closely followed by Kyler Wilcox & Michael Smith with a 44. Josh Votruba & James Marquardt played very well and ended up with a 48. Reagan Crotinger & Maggie Votruba were not far behind, scoring a 52.
On Friday, April 28th, five JV golfers made their way to Oakley to play on a cold and windy day. That didn't seem to matter to them as four of the five shot their best score of the season. Kyler Wilcox led the team with a 54 and finished one stroke away from 10th place and a medal. Kyler has been steadily improving all season and when he gets his putter going, he can really play. James Marquardt broke out with his best score of the season by far. James shot a 56, which was 13 shots better than his previous best. James has gotten to be a more consistent ball striker each tournament and that has led to the cutdown in strokes. His next big jump will be found on the greens if he can get his speed control down. Michael Smith didn't have his best day, but still shot a 58, right around his average. Michael is a pretty consistent golfer and I expect him to keep making strides as the season winds down. Maggie Votruba was right behind with a 60. Maggie improves so much each day and it is fun to see the gains she makes. She is hard on herself and pushes herself to get better every day. If she keeps that determination up, she will be shooting in the 50s very soon. Josh Votruba shot his best score of the season with a 63. Josh's putting has gotten very good and has really helped him cut down on his strokes. Once Josh gets more consistent with his ball striking, he will really make some big jumps in improvement.
This next week and a half will be a busy one. The varsity will play 4 tournaments in a 7-day span. They play at Oakley on May 2nd, at Johnson on the 5th, at St. Francis on the 6th, and then at our home tournament here in Tribune on the 8th. The JV team only has 2 tournaments left, playing at St. Francis and Tribune on the same days as the varsity. The end of the season will be here before we know it, and I hope we can make the necessary improvements to get where we want to be at the end of the season.