Edna Delores Grubb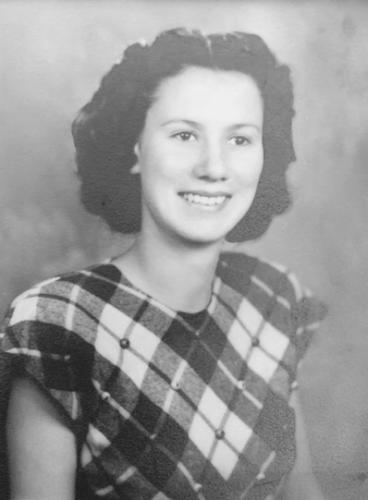 Edna Grubb, 94, of Horace, passed away at home after a long and full life on Monday, June 19. Edna passed away peacefully surrounded by her loving family. This is a celebration of her life.
Edna Delores Jones was born southeast of Arapahoe in Cheyenne County, Colorado, on June 4, 1929. She had six sisters and two brothers. Her father, Elias Avery Jones, was a farmer and her mother, Caroline Susanne Talmon Jones was a housewife. Edna was long impacted by the great depression and the Dust Bowl in the 1930s that made life extremely difficult for the Jones family, and for most people living on the Great Plains. While poor, no one in the Jones family ever went to bed hungry.
Edna graduated from Arapahoe High School, Arapahoe, Colorado, in 1947. On June 1, 1947, Edna married John J. Grubb in Tribune. This union lasted over 76 years. Their marriage was one of equal partners both actively involved in working and raising the family equally.
To this union, four children were born: Richard Grubb, Annetta Saunders, Gary Grubb, and Bryon Grubb.
Edna is survived by two sons and one daughter: Richard (Pam) Grubb, Hays, KS; Annetta Saunders, Hopkinsville, Kentucky; and Bryon Grubb, Horace. She is also survived by five grandchildren: Nancy (Joe) Stein, Salina; September White, Hopkinsville, Kentucky; Candice Hayes, Owensboro, Kentucky; Shannon Dizmang, Denver, Colorado; and Dustin Grubb, Horace. In addition, there are 12 great-grandchildren and 21 great-great grandchildren.
One sister survives Edna: Dorothy Hull, Inman. Edna is also survived by in-laws, Harold and Shirley Grubb, Tribune; sister-in-law, Patty Grubb, Olathe; granddaughter-in-law Ashley Grubb, Tribune; granddaughter-in-law Skyler Torres, Horace, and numerous nieces and nephews, great, great-great, great-great-great, and great-great-great-great nieces and nephews.
Edna is preceded in death by her parents, son Gary, grandsons Willy Grubb and Jeremy Grubb, five sisters and two brothers, and her beloved dog, J.W.
Visitation was held Sunday, June 25 from 3-8 p.m. MT at Price & Sons Funeral Home in Tribune.
Funeral Services were held in Tribune, KS, on Monday, June 26, at the Tribune United Methodist Church. A reading of flowers/plants/donations and memorial messages for family and out-of-town guests at 9:30 a.m. A Celebration of Life service followed at 10:30 a.m. Immediately following the funeral, graveside services were held at the Greeley County Cemetery in Tribune.
The Tribune United Methodist women hosted a lunch following the services for family, close friends, and out-of-town attendees.
The Celebration of Life Service was streamed live on June 26 on Facebook at Price & Sons Funeral Home page and the Tribune United Methodist Church page.
In lieu of flowers and plants we are suggesting that memorials be designated to support the VFW Post #7521, P.O. Box 571, Tribune, KS 67879, or sent in care of Price & Sons Funeral Home.